Case Study
A tour player looking for more consistency
Chase
Age: 26
HDCP: +4

OVERVIEW:
Chase is a professional golfer, with his sights set on the PGA tour. He is preparing for MacKenzie Tour PGA TOUR Canada Q-school in the spring. Chase is very particular with his equipment, and has had many fittings in the past, but nothing felt quite perfect.

DIAGNOSIS:
Chase has a very efficient swing and creates a lot of speed, he is looking for more consistency in his iron play. Distance is not a priority for Chase's game, he wants to tighten up his dispersion and give himself more makeable birdie putts. Chase was struggling with his distance control and we found that his spin rates were the cause. Inconsistent spin gave him a dispersion of +/- 11 yards, which certainly won't cut it in professional golf.

OUR PROCESS:

1. CREATE A BASELINE:
We had Chase hit a series of shots with his current irons. We created a baseline so we could compare the performance of the new equipment against his old equipment.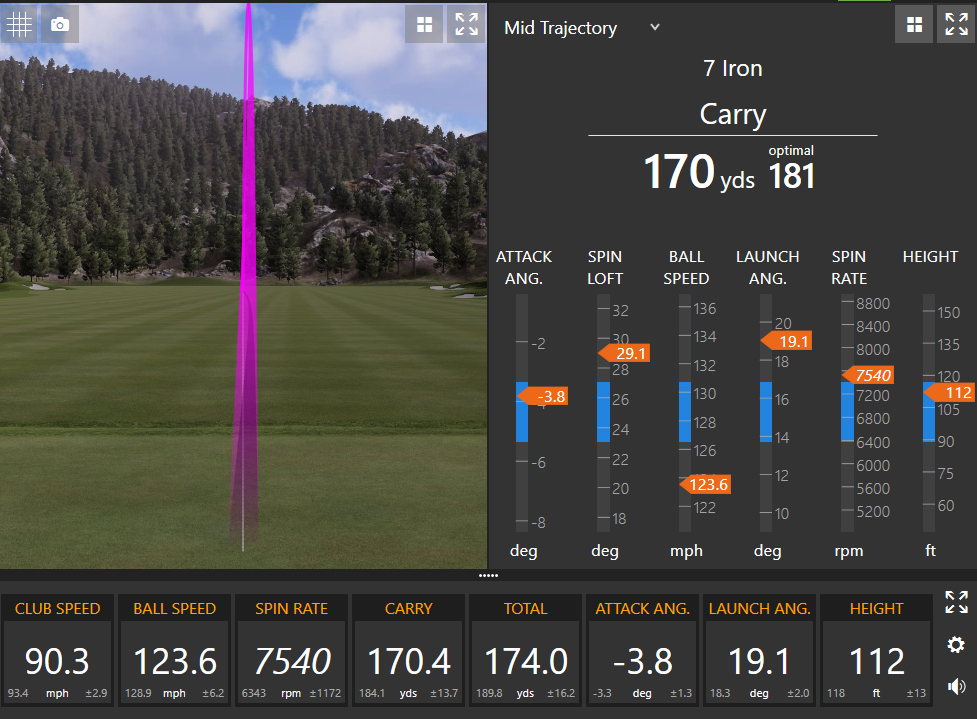 2. OPTIMIZE THE SHAFT:
Using the data we acquired from his baseline testing, we narrowed down the shaft profile to three shafts for Chase to test. Chase is very much a feel-based player and didn't like the feel of a "boardy" golf shaft. We had to find a shaft that felt soft in his hands and gave him optimal feedback, while still maintaining stability in the head to produce a lower launching, lower spinning trajectory. In the end, optimizing the shaft reduced his spin rate by 1090 RPMs.

3. OPTIMIZE THE CLUBHEAD:
Using the optimal shaft, we tested different iron heads with different soul designs for better turf interaction and overall feedback for Chase. This added an extra three yards of carry—which was not our focus, but was a result of dialling in the equipment. The biggest change was the shot dispersion. Once we dialled in the lie angle and shaft/head combination the results were obvious. His dispersion went from an 18 yard radius down to a 7 yard radius.

4. THE OPTIMAL FIT:
The end result: the difference between a 54 foot birdie putt vs. a 21 foot birdie putt on a lesser quality shot, and the difference between a 19 foot birdie putt vs. a 3 foot birdie putt on a higher quality shot. Now when Chase's caddie says "be good," he knows… it is!