Case Study
A new hip, and a new driver
Steve
Age: 54
HDCP: 7

OVERVIEW:
Steve was a professional jet skier and its taken a physical toll on his body. He recently underwent hip replacement surgery. Steve has always been a very accurate driver of the golf ball. However, hip surgery has made a very big change in his body mechanics, and his current driver was no longer a good fit.

DIAGNOSIS:
The most significant change with Steve's new post surgery golf swing is his speed has been reduced and his attack angle has changed. The ball was launching very high with too much spin. Even with solid contact, Steve was losing a lot of distance.

OUR PROCESS:

1. CREATE A BASELINE:
We had Steve hit a series of shots with his current driver. We created a baseline (see below) so we could compare the performance of the new equipment against his old equipment.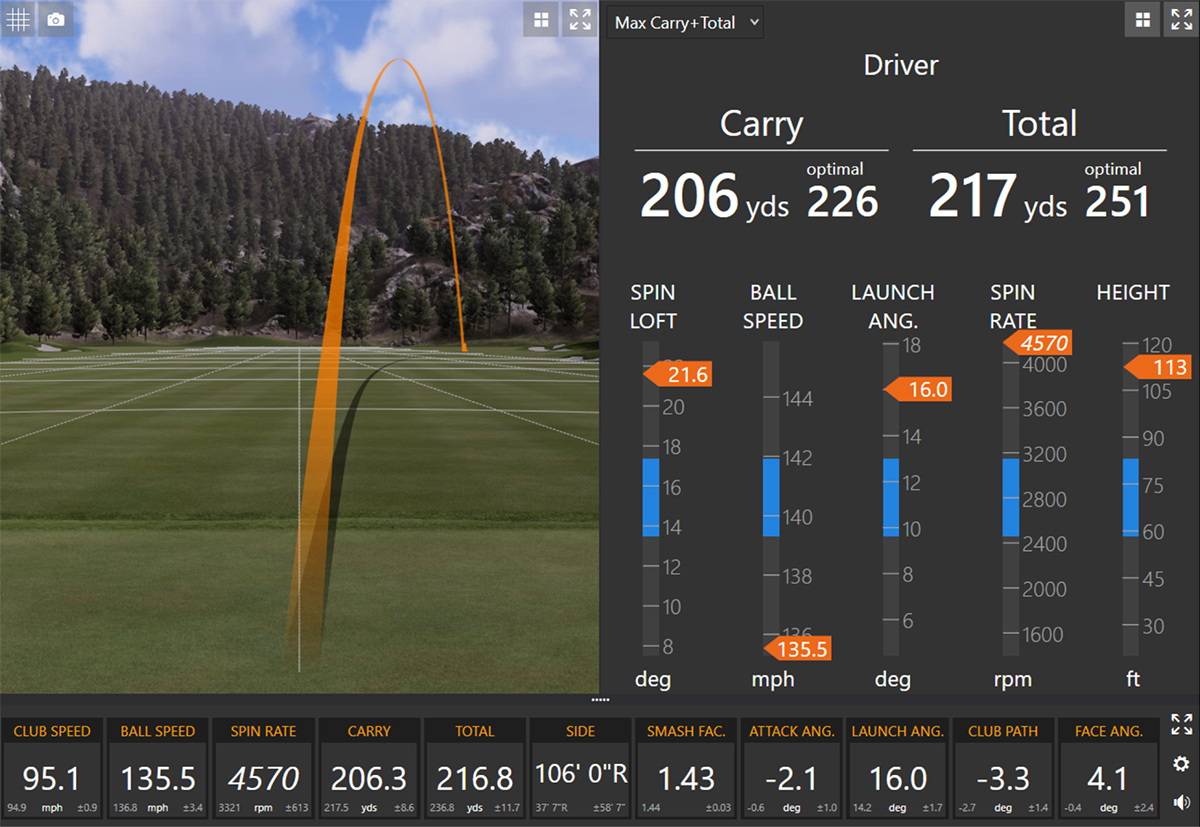 2. OPTIMIZE THE SHAFT:
Using the data we acquired from his baseline testing, we narrowed down the shaft profile that would best suit Steve's new swing. Steve's results were interesting. We knew he needed lower launch and lower spin, and found as we tested low launch shafts, Steve's swing changed. We tried fitting Steve into shafts that "fit" his swing speed profile, but we found that they all spun the ball too much. We tested a mid launching shaft with a tighter flex outside of the recommended specification - and found the best results. Steve didn't lose any club head speed and his spin rates drastically dropped. Maximizing his carry distance and total distance. Optimizing the shaft added 6.7 MPH of ball speed with Steve's current driver head.

3. OPTIMIZE THE CLUBHEAD:
Using the optimal shaft, we tested different driver heads with less loft and a draw bias to stop the ball from ballooning at launch. This added an extra 28 yards of carry. Steve is a tall guy, and we found his tendency was to make contact toward the toe. We tested a slightly longer shaft length, which created more center contact and tightened up the dispersion pattern. Steve is once again a very accurate driver of the golf ball, only now he's hitting much shorter clubs for his second shots!

4. THE OPTIMAL FIT:
The end result: an extra 28 yards in carry, 41 yards overall, tighter dispersion, and a happy customer!